June 2019 Additions
The month of June, 2019, brought some interesting finds as well as a long sought after 2xLP and even a few new Discogs submissions thrown in to boot.

Acquired today – original aussie release from 1960 of Chubby Checker's Twist
Moruya
Working in reverse chronological order, let's start with the glorious "A Love Supreme" by the iconic John Coltrane.  Picked up just this very morning at the Moruya markets on the sunny New South Wales south coast, this wasn't cheap at $80 and the sleeve had seen some better days, but it included the original inner sleeve and – most importantly – the disc is Near Mint (NM), if not unplayed.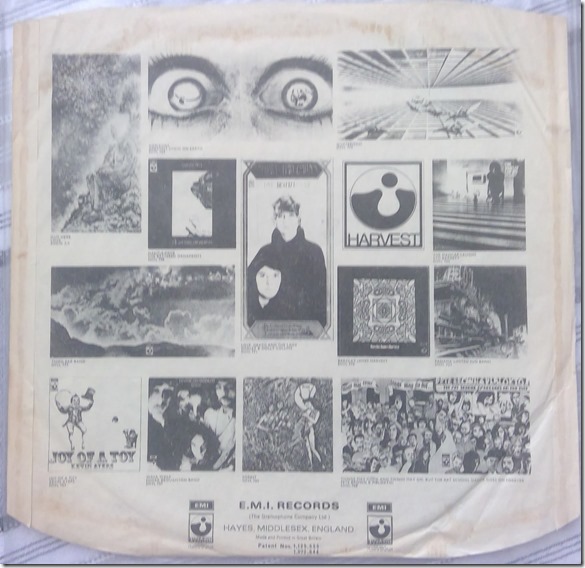 Original HMV/EMI UK inner sleeve from approx. 1969
With the Coltrane came an original 1960 copy of the Australian pressing of Chubby Checker's "Twist" on a golden "His Master's Voice" label which was a solid very good plus.  The sleeve was in excellent condition and it was arguably a bargain at $20.  Added to the mix – Londonbeat's 1990 album for $10 featuring their hit "I've been thinking about you".
Adelaide
Yesterday, I was in South Australia for work, and managed to find a slot in the day to visit Rundle Mall and stick my neck into Rerun Records who are located down a fairly inconspicuous arcade down a side street (map provided for navigation).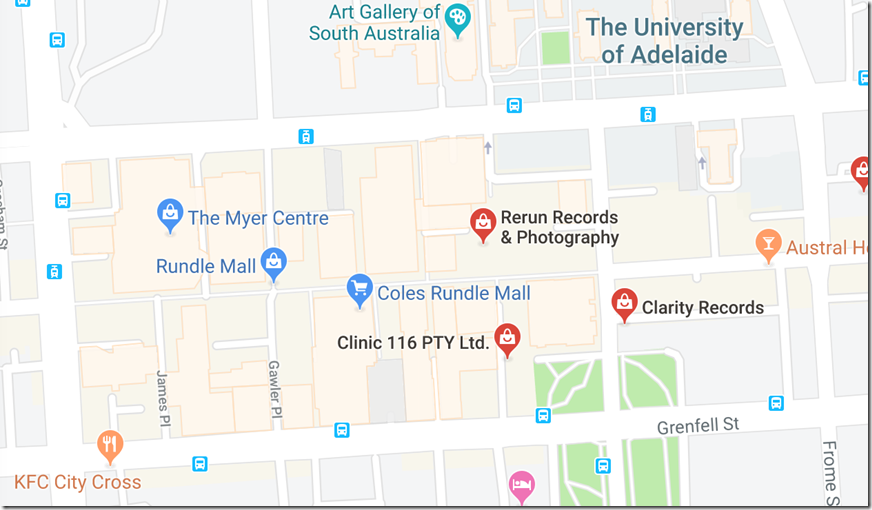 Location of Rerun Records in the Adelaide CBD
Here I had a long chat with staff whilst browsing their verbose collection of nearly every genre.  They'd just processed a large collection of pristine movie soundtracks from the 60s and 70s (not my jam, per se) but very impressive.  They also had a huge range of Rockabiliy which tended to be represses from the 80s and prior.  That led me to pick up a copy of Buddy Holly's "That'll Be The Day" for $20 (Calendar Records RP, mid-60s Australia) as well as a US copy of the Ghostbusters II soundtrack (for younger son) and topped it off with a Universal Music Club (Australia) copy of Coltrane's "Ballads" for $50 from 1963.  All three records were in a stunning NM condition, not a scratch on them.
Canberra
Last weekend, there was a record fair held at the Polish Club in Turner.  This is the first time that a record fair has been set up there, and it's a sensible location for Canberra in winter.  I didn't have a lot of time to browse, and thus pressed, had to "speed" scan for things of interest.  There was an unpriced Beatles white album ("make an offer") but I was a bit shy of cash by that stage.  Instead, I'd picked up 2x NM LPs of Spectrum/Murcepts farewell concert called "Terminal Buzz" ($100) which I've been hunting for about 2 years now.
On top of that I added an early 70s compilation from the UK band Geordie (lead singer Brian Johnson went on to join AC/DC after Bon Scott's premature death ~1980) – for $25.
Earlier that week I'd been through Civic ("city centre") and popped my head into Landspeed Records and picked up a NM 20th anniversary copy of the Beastie Boys Paul's Boutique for $25 (how can you lose?).  The week before that.. I'd been to the local and acquired the Daddy Cool & Ray Charles which are in good nick.
Bungendore

On our way back from the coast at the start of the month, we paused long enough for me to pop into
Hunting here over the past five years has been a bit hit and miss, although I've managed some interesting finds, including a nice David Bowie Hunky Dory (Oz 1st) so it's not without merit.  This time, I found a neat copy of the
Indelible Murtceps first LP, "Warts Up Your Nose" which seems to have only been released the one time back in the 1970s.  The key pick up though may have been the Australian release of Chuck Berry's "Chuck Berry Is On Top" for $20 in VG/VG+ condition.  Lastly, a John Butler Trio LP ($35) to try to replace the only other JBT LP that I've owned, which I sold back in December last year for a mint.