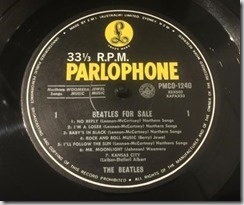 One of my projects is to attempt to collect original or near-original copies of The Beatles in mono.
I got the idea from a friend of mine, Nate Goyer, who runs The Vinyl Guide, which I highly recommend.
Why?
Most of the Beatles' catalogue was originally mixed and released in the monophonic format. Stereo recordings were a fairly new concept for pop music in the 1960s and did not become standard until late in that decade. This explains why the Beatles' initial album releases were mixed for mono. By the late sixties, however, stereo recording for pop music was becoming more popular and, thus, the new standard. Therefore, the last few Beatles albums—Abbey Road, and Let It Be—were mixed and released only in stereo. Many feel that the mono mixes reflect the true intention of the band.
Source: Wikipedia
Have?
Title
Cat
Specs
Year
Y
Please
Please Me
PMCO 1202
LP, Album, Mono,
RP
1964
Y
With the Beatles
PMCO 1206
LP, Album, Mono
1964
Y
A Hard Day's Night
PMCO 1230
LP, Album, Mono
1964
Y
Beatles For Sale
PMCO 1240
LP, Album,
Mono
1965
Y
Help!
PMCO 1255
LP, Album,
Mono
1965
Y
Rubber Soul
T 2442
LP, Album, Mono
1965
Y
Revolver
PMCO 7009
LP, Album,
Mono
1966
Y
Sgt.
Pepper's Lonely
Hearts Club Band
PMCO 7027
LP, Album,
Mono
1967
Magical Mystery Tour
1967
The Beatles
1968
Y
Yellow
Submarine
PMCO 7070
LP, Album,
Mono
1969
I'm attempting to avoid paying crazy prices and to date the most I've paid is $40 for any individual LP.
Here's a great website resource for collectors of Australian and New Zealand Beatles releases.