[As of 11 June 2019]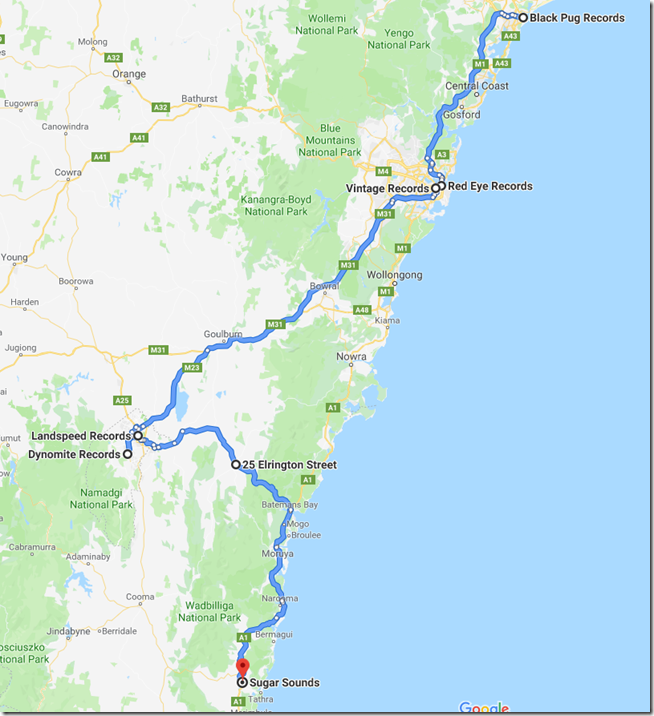 There's no shortage of places to acquire new & second hand records in New South Wales, but there are some dependable stalwarts that I've come across over the years and some new finds.
Here's a list of places I'd recommend if you're in the neighbourhood, ordered by location.
Sydney
The Vintage Record
31a Parramatta Rd, Annandale NSW 2038
I've never left the shop empty handed and there's always an eclectic range of excellent 2nd hand LPs here, and the prices are very generous – especially for Sydney.
There's an even chance you'll walk away with a bargain, a rarity or both.
[ Ultrasonic Cleaning ]
Red Eye Records
143 York St, Sydney NSW 2000
If you're after vinyl in the Sydney CBD, there's not many stores left. Red Eye and Utopia are the few remaining and my pick is Red Eye.
Their second hand range has improved dramatically in recent years and their range of new vinyl is exceptional.
Newcastle
Black Pug Records
80 Maitland Rd, Islington NSW 2296
If you're north of Sydney, keep going north until you reach Newcastle, the original home of Silverchair.
In town there's a place I recommend which has good turnover of second hand titles and often the harder to get stuff pops up as well.
Canberra (ACT)
Landspeed Records
30 Garema Pl, Canberra ACT 2601
Landspeed is the rough Canberra equivalent of Red Eye in Sydney, with a huge range of brand new vinyl an a conservative selection of second hand.
The business is in the habit of stashing second hand vinyl for record store day, and as such the pickings can be slim at times.
Dynomite Records
1a/28 Primmer Ct, Canberra ACT 2902
This is my local, a huge range of second hand and owner Phil is very selective about the quality he accepts.
I almost never have to check the condition of the discs, it's VG+ at minimum except on rare occasions. Excellent turnover on titles, and many a rare release has popped up here.
[ Ultrasonic Cleaning ]
Canberra Vintage & Collectible Centre
11/90 Barrier St, Fyshwick ACT 2609
Over in Fyshwick, at the vintage & collectables centre, Jamie (owner) has doubled down on second hand vinyl and has also recently acquired a professional cleaning system as well.
Pricing can be varied (and is improving), and occasionally rare & hard to find stuff pops up. Worth a crate dive if you have the time. Also has a large range of He-Man classic toys and other 80s collectables.
[ Ultrasonic Cleaning ]
Braidwood
Championship Vinyl
25 Elrington St, Braidwood NSW 2622
This one is a well kept secret. On the route from Canberra to the coast, one must pass through the sleepy town of Braidwood. There's a shop clearly marked that has a lifetime collection of vinyl for sale that isn't easy to find online.
The address is above – if you happen to be passing when they are open, it's worth a look inside. Condition is usually immaculate, range is eclectic as it is wide.
Bega
Sugar Sounds
203A Carp St, Bega NSW 2550
This one is a new find – upstairs on the main street in Bega, there's a great selection at reasonable prices.
The stock seems to turnover quite regularly and there's good social media engagement as well. Prices and condition vary, but the bargain bin is excellent and there's rare finds to be had from time to time.
[ Ultrasonic Cleaning ]