I was given a copy of this excellent book "The 100 Best Albums of All Time" in 2015 and I admired the compilation so much that I decided to try and collect a copy of each album on vinyl.
Initially I set myself some rules to make the hunt more interesting:
Prefer second hand
No online purchasing*
Prefer original pressings (or early represses)
As I narrowed in on the list, I was forced to remove the second rule as it was getting ridiculously unlikely that I'd find all the copies in a realistic timeframe.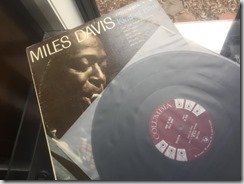 For the most part I've been successful in avoiding reissues, but economic realities make this hard to avoid.
On the 19th of October 2017 I completed my quest.
The last album (Aretha Franklin's "Lady Soul") arrived via an Australian seller on Discogs. It was a beautifully cared for original Australian pressing on heavy wax and it sounds amazing.
Here's the complete list:

OP = Original Pressing/1st Pressing
RP = Repressing or Reissue
[Last Updated 02-03-2022]
Number
Album
Notes
1

Bob Dylan – Highway 61 Revisited

RP, (US) import
2

The Beatles – Revolver

OP (AU)
3

The Clash – London Calling

OP (UK)
4

Nirvana – Nevermind

RP (EU)
5

Van Morrison – Astral Weeks

RP (AU)
6

Joni Mitchell – Blue

OP (AU)
7

Rolling Stones – Sticky Fingers

RP (US)
8

Fleetwood Mac – Rumours

OP (AU) & 2011 US remaster
9
Velvet Underground & Nico – Velvet Underground
& Nico
OP, (US) Verve torso
10
Public Enemy – It Takes a Nation of Millions to Hold
Us Back
OP (US)
11
Beach Boys – Pet Sounds ("Fabulous Beach Boys" –
AU)
OP (AU)
12
Bruce Springsteen – Darkness on the Edge of
Town
OP (AU)
13

Television – Marquee Moon

OP (US)
14
Little Richard – Here's Little
Richard
RP (AU/NZ)
15
Led Zeppelin – Untitled (Symbols)
IV
OP (JP & AU)
16

Radiohead – OK Computer

RP (EU)
17

The Band – The Band

OP, RP (AU, EU)
18
The Beatles – The Beatles (White
Album)
OP (UK, AU)
19

Pixies – Doolittle

RP (EU)
20
John Lennon – John Lennon/Plastic Ono
Band
OP (AU)
21

U2 – Achtung Baby

OP, (EU)
22
Simon and Garfunkel – Bridge over Troubled
Water
RP, (US) Half Speed Mastered
23

Bob Dylan – Blonde on Blonde

RP, ('68 AU) & (US) MoFi
24
Sex Pistols – Never Mind the Bollocks, Here's the Sex
Pistols
OP (AU)
25

Prince – Sign o' the Times

OP
26

Arcade Fire – Funeral

RP
27

Michael Jackson – Thriller

OP
28

Neil Young – On the Beach

OP
29

Jay-Z – The Blueprint

OP
30

Massive Attack – Blue Lines

RP
31

The Smiths – The Queen is Dead

OP
32

Carole King – Tapestry

OP
33

David Bowie – Hunky Dory

OP
34
Ray Charles – Modern Sounds in Country and Western
Music
RP
35

Paul Simon – Graceland

OP
36

Iggy and the Stooges – Raw Power

RP
37
The Jimi Hendrix Experience – Are You
Experienced?
OP
38

Aretha Franklin – Lady Soul

OP
39

Ramones – Ramones

OP
40

Rolling Stones – Exile on Main St

OP
41

Patti Smith – Horses

OP
42

Miles Davis – Kind of Blue

OP, (CA) 6 eyes, (AU) & RP (UK) & (US) MoFi UHQC
43

Sonic Youth – Daydream Nation

OP
44

Bruce Springsteen – Born to Run

OP
45

The Beatles – Abbey Road

OP
46
Guns 'n Roses – Appetite for
Destruction
OP & RP (AU, EU) both covers
47

Black Sabbath – Paranoid

OP (US, AU)
48
George Harrison – All Things Must
Pass
OP (AU & UK)
49

Green Day – American Idiot

RP
50

The Doors – The Doors

RP (AU '70s & US VMP reissue)
51
Pink Floyd – The Dark Side of the
Moon
OP (UK, AU)
52

James Brown – Live at the Apollo

RP (US)
53
Creedance Clearwater Revival – Cosmo's
Factory
OP (AU)
54
Pearl Jam – Vs.

RP
55

The Wailers – Burnin'

OP & RP (US, UK)
56

The Monkees – Headquarters

OP (US)
57

Talking Heads – Remain in Light

OP (AU)
58
Rod Stewart – Every Picture Tells a
story
OP (AU)
59
Devo – Q. Are We Not Men? A. We are
Devo!
OP (AU)
60

Chuck Berry – After School Session

RP
61

Eminem – The Marshall Mathers LP

RP
62

Blondie – Parallel Lines

OP
63
Dusty Springfield – Dusty in
Memphis
RP (CA)
64

R.E.M. – Automatic for the People

OP
65
The Supremes – Where Did Our Love
Go?
OP
66
Oasis – (What's the Story) Morning
Glory?
RP
67
Kanye West – My Beautiful Dark Twisted
Fantasy
OP
68

Jeff Buckley – Grace

RP
69

The White Stripes – Elephant

RP
70

Eagles – Hotel California

OP
71

Wilco – Yankee Hotel Foxtrot

RP
72

Beastie Boys – Paul's Boutique

RP
73

Tom Waits – Rain Dogs

OP
74

Kate Bush – Hounds of Love

OP
75

The Who – Live at Leeds

RP
76

Joy Division – Closer

OP
77

Kraftwerk – Trans-Europe Express

RP (CA)
78

Randy Newman – Sail Away

OP
79
Pavement – Crooked Rain, Crooked
Rain
RP
80

Curtis Mayfield – Curtis

RP
81

Roxy Music – For Your Pleasure

OP
82

The Strokes – Is This It

RP
83

Midnight Oil – Diesel and Dust

OP
84
Coldplay – Viva la Vida or Death and All His
Friends
OP
85
The Kinks – The Kinks are the Village Green
Preservation Society
RP, Japanese 80s EX
86

Pretenders – Pretenders

OP
87
The Modern Lovers – The Modern
Lovers
OP
88

Primal Scream -Screamadelica

OP
89
Fairport Convention –
Unhalfbricking
OP
90
Elvis Costello and the Attractions – This Year's
Model
OP
91

Portishead – Dummy

RP
92

AC/DC – Back in Black

OP
93

Beck – Odelay

OP
94

Gang of Four – Entertainment!

OP (AU)
95

Marvin Gaye – What's Going On

RP
96
Arctic Monkeys – Whatever People Say I Am, That's Wham
I'm Not
OP
97

Queen – A Night at the Opera

OP
98
Derek and the Dominos – Layla and Other Assorted Love
Songs
OP
99

PJ Harvey – Let England Shake

OP
100

The Byrds – Sweetheart of the Rodeo

RP, 2xLP Set