[Last Update: 29/5/2019]
Not too many moons ago, I had not heard a single LP by King Crimson. It's true. I'm technically a child of the 70s (b. 1979) but I'd somehow not been introduced to the pioneers of progressive rock.
There's something about their reputation and the cover art of their debut album that drew me to look further. Once I'd set the stylus down to play the epic "21st Century Schizoid Man" on an EX Japanese pressing of "In the Court of the Crimson King", I was sold.
I had to collect the rest.
Over the recent (ACT only) long weekend, I added three more Crimson to my growing collection.
This nearly completes the 1970s studio releases with the exception of 1971's "Islands". Through some stroke of luck, I have a mixture of Japanese, UK and US pressings – most of them OP with a handful of RPs.
All of them are NM (EX) bar none, which is exactly what I'd recommend.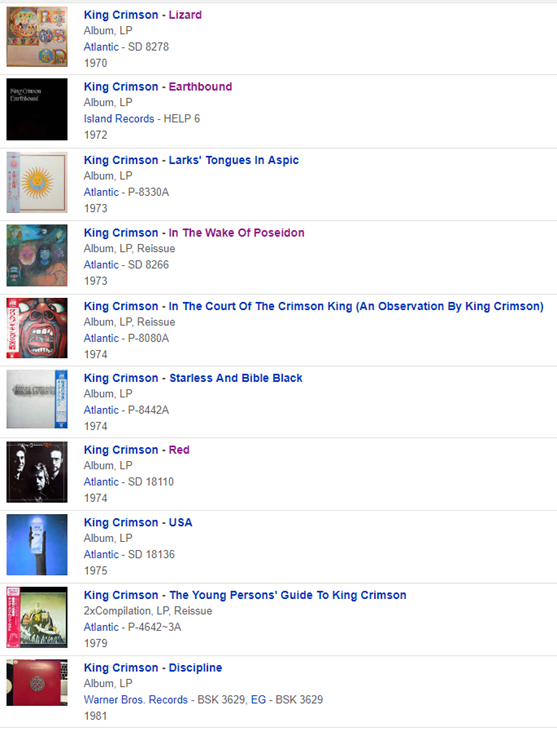 My education into King Crimson rightly started with "In the Court of the Crimson King", and took a highly regarded tour through "Larks' Tongues", "Starless/BB" and "USA". I then started to opportunistically collect what I could, as I came across releases. The "Young Persons' Guide" helped connect me to material I'd not yet managed to obtain.
"Earthbound" and "Discipline" followed in turn, but what I really sought was "Red". It wasn't until this weekend just gone that I finally came across a copy of Red 'in the wild'. It just happened to be paired to US copies of "Lizard" (a highly regarded Monarch pressing) and an early repressing of "Poseidon".
So here we are now. I've listened to "Red" end to end, and I'm as impressed as I was with "Larks'" and "Court". Surely they are the top three albums, but there's plenty on offer from the rest. I'm going to start from scratch, and listen to each album in order and report back on my experiences. I'll update this article as I go.
It will be one heck of a journey.