Last month, I casually browsed an Australian site called Gumtree. It's a classifieds site which allows people to place free ads online, and I tend to check for listings relating to vinyl records on an ad-hoc basis.
I was just relaxing, browsing on my phone, when I came across a new listing which featured five early Pink Floyd albums.
The uncommon aspect was the inclusion of a copy of Pink Floyd's second album, "A Saucerful Of Secrets" which I didn't have a copy of. Listed as a job lot for $75, other LPs included "Meddle", "Relics", "Ummagumma" and, of course, "The Dark Side Of The Moon" (DSOTM).
Oddly enough, I only have a copy of DSOTM and no copies of the others, so I was very interested. The second album (regardless of origin), in particular, if in decent condition would be worth it from a price perspective.
Realising this would be of interest to other Vinyl Hoarders, I jumped on the opportunity to contact the seller. I ended up visiting the next morning and had a quick inspection of the goods.
I almost fell over when I saw this: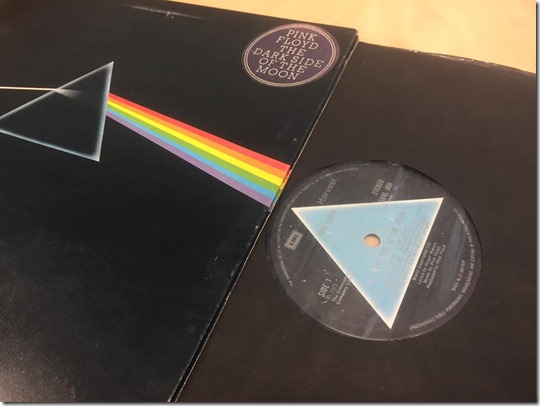 Grail Find: a rare item that a collector would actively search for over a (potentially) long period of time.
As it turns out, all of the albums were original UK (Harvest)pressings in very good condition. Why is the first pressing such a big deal? From discogs:
Thick heavyweight vinyl believed by some to be the 'finest' and most true encapsulation of this historical recording as the first pressing was pressed direct from the original masterplate.
The second album (Secrets) was actually a second pressing on the Columbia label, but still a nice find.
The real gem though is this UK first edition DSOTM, which is incredibly hard to find. I count myself quite blessed to be able to add it to my sprawling collection!
You can find out more about the UK pressings here: http://pinkfloydarchives.com/DUKLPPF.htm#DSOTM1