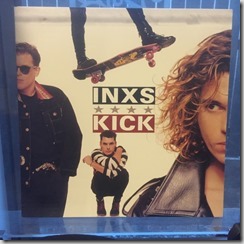 A Huge Hit Album
In the 1980s, INXS hit the big time. An Australian band had hit the international music scene like few had previously. They seemed to go from hit to hit and strength to strength, leaving behind the Land Down Under for Europe and the US.
The high point is arguably 1987's "Kick", an album which served as a platform for an amazing array of hit singles which firmly established the band as an international brand.
The Release
There's so much to like about this album. It really builds off the artistic growth of some the album's forerunners, particularly "Listen Like Thieves" and "The Swing".
The most memorable track for my mind is the incomparable "New Sensation" which is the second track of the A-side. It's hard to single out any one song though, as the stellar line-up lends itself to complete end-to-end track consumption.
There's a tinge of pre-grunge in some of the lyrics, and in many ways it's surprising that the band didn't kick off the era of grunge music more formally, they certainly had the core elements around them of a sort.
Technical
A lovely gatefold cover accompanies this Australian release. Gatefold covers were certainly not the norm in Australia for various reasons (likely a driver for lower costs), so it's refreshing to get the gatefold experience.
A single LP release with a bespoke liner jacket, and plenty of photos of the band. The labels get the "INXS" treatment, even though the vinyl itself is the standard light plastic that was common at the time.
My copy is in VG+ condition for both the disk and the sleeve and liner. I still believe vinyl is the best way to listen to this iconic album.