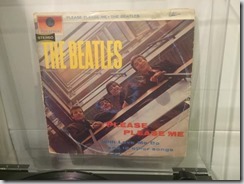 No matter how old you are, there's a very decent chance you've heard of The Beatles. At one time, the most popular band in the world, they have chalked up more hits and sold more albums than I can name.
Yet, like everyone, they had to start somewhere.
The Album
The first album was very successful in the UK and Australia with a lot of early rock and roll covers and some original work thrown in for good measure.
The English group put together a number of instant classics such as "Love Me Do", "I Saw Her Standing There" through to the classic cover "Twist and Shout". At times the vocals are raw (especially "Twist and Shout"), but the harmonies are glorious.
What we have here is the Australian stereo first pressing on the Parlophone label.
Released in 1964, following the initial release (mono) in 1963, original pressings feature the large font in silver/black (similar to the original mono which was in gold) and is the only release of this album in Australia to feature this label format.
Technical
The sleeve is the same as the mono, but with a "Stereo" sticker applied. They were in the habit of as much reuse as possible back in the day.
My copy is heavily adorned with light scratches, but being a luscious 60s record, the playback is amazingly free of any signs of wear.
Interestingly, I have another stereo copy from the 70s on a bland orange label (in near mint condition) and there's not much in it between the two copies.