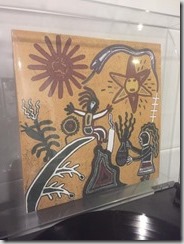 I'm a child of the 1980s, and that happily coincided with what I feel is possibly the best era for Australian music to date.
Intro
Brewing over from that seminal decade, Midnight Oil emerged to record "Earth and Sun and Moon", an often overlooked title in the group's long history of releases.
This early 90s album brought along with it some serious song writing nous.
The Album
The high water mark is "Truganini" which remains quintessentially political (a Midnight Oil hallmark) and recounts the memory of two prominent Aboriginals, Truganini and Albert Namatjira as well as an emphatic questioning of the impact and purpose of European settlement in New Holland.
It's accompanied by the unwavering and powerful "My Country", a bush ballad in "In the Valley" (which pains a vivid picture of early Sydney) and one of my favourites, the Pacific island themed – "Now or Never Land".
The Release
This pressing coincides with the release of a Midnight Oil boxed set – all of their albums, plus EPs and additional material. It was released in early 2017 and represents a rare opportunity to pick up- a vinyl copy of this album.
The album was pressed to vinyl originally, but copies are reasonably scarce. I was thrilled to be able to finally add this one to my collection earlier this year.
Technical
Nice clean copy but I found the audio level a bit lower than on most LPs. Unsure if this release was mastered from original tapes or from digital masters.