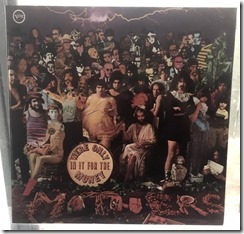 A Controversial Cover
Back in the 1960s, there was an album released with eye catching, some would say "iconic", cover art. I'm NOT speaking of "We're only in it for the money" mind you, I mean – of course – The Beatles "Sgt. Pepper's Lonely Hearts Club Band".
Released in 1967, the album featured the Fab Four surrounded by cardboard cut outs of various celebrities and personalities of the time.
Frank Zappa had formed the "Mothers of Invention" a few years earlier, and had kicked off with their debut album "Freak Out!" in 1966. Frank was not exactly on the same wavelength as the hippy movement flooding through the US at the time, and clearly wanted to let it show.
Motivated to disrupt, he had the audacious idea to parody the famous Beatles cover with a sort of inverse concept cover of his own. The title doesn't leave much to the imagination.

The Album
The LP is full of that early innovative use of sound and effects that the Mothers and Frank Zappa were to become well renown for, but I think my favourite part would be from the track "What's The Ugliest Part Of Your Body?" in which Frank tells the Hippy folk, that it's their personalities (their minds).
The Release
Here's where things get really interesting. Australia becomes the lucky country because somehow, someone didn't get a memo. But I digress..
Recall that the planned cover was considered controversial? The record label hadn't forgotten, and they were so afraid of being sued that they forced a change so that the planned cover art moved inside a gatefold sleeve, with a picture of the band on the cover.
Except in Australia.
Here in Australia (and to my knowledge no where else) they printed up and distributed the original design in a non-gatefold sleeve. Released in both Stereo and Mono, the artwork was as Frank Zappa had intended, which makes it quite rare and collectable.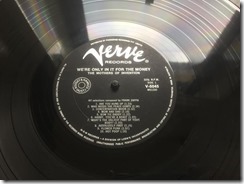 The Release
I was supremely lucky to find a second hand copy of this incredibly rare mono first pressing whilst crate diving at a shop on the outskirts of Melbourne late last year. Even Discogs lacks an entry for it (I will remedy at some point).
Technical
Pressed on a black Verve label, in glorious mono, this particular copy is in pretty good condition. Like many 1960s releases, it's nice quality plastic and it sounds warm, vibrant and with little background noise. According to Discogs, mono copies were only released in 1968 (US, UK, Australia) so it's not easy to come by.