Sounds of the 70s
If you were a child of the 1980s like I was, and you happened to watch every episode of "The Wonder Years", then I imagine you've heard plenty of music by The Doors.
Even if you didn't share my upbringing, there's a lot to recommend American poet Jim Morrison and his band The Doors.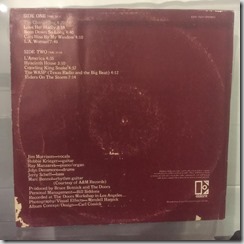 The Release
This is their sixth studio album from 1971 and contains some of their most famous tunes. "Love Her Madly" featured in Academy Award winning "Forrest Gump" (1994) and is an excellent example of Morrison's soulful melodies.
"L.A Woman" closes the A-side and runs at over seven minutes. There's great range from the band and superlative timing.
Likewise, "Riders On The Storm" closes the B-side and is also quite long at over seven minutes, and adds a somewhat psychedelic melody to close the album.
Technical
This is a nice early 70s first pressing on the Elektra label in Australia. The LP is nice and clean with minor surface scratching and scuffing, none of which impacts the playback.
The flimsy cover is, as per normal, the first thing to die on sleeves of this era. This cover is "OK" but has odd problems, such as slight tearing on the rear bottom.