Red Anniversary Vinyl
1991 was a sensational year for music, especially for a youth such as myself. The year brought us (amongst others):
Pearl Jam's "Ten",
Nirvana's "Nevermind",
Metallica's black album,
Guns 'n Roses "Use your illusion I & II",
U2's "Achtung Baby",
Michael Jackson's "Dangerous", and..
Red Hot Chili Peppers' "Blood Sugar Sex Magik". You have to admit, that is impressive company.
Back in 2011, we were lucky enough to have a 20th anniversary repressing for Record Store Day, limited edition numbered with red vinyl.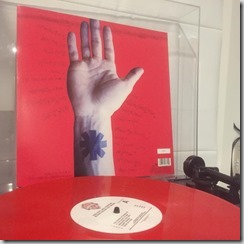 If you haven't heard "Suck My Kiss", "Breaking the Girl", "Give it Away" or (especially) "Under the Bridge", where have you been?
This is some of the Peppers' best work, and that is saying something given the long span of their careers, and their other blockbuster albums.
Technical
This is a quality pressing, but on top of it all, this release was mastered by Bernie Grundman from the original analogue master tapes.
This might be the best version of this epic album to date.