Classic 70s Blues-Rock-Jazz
There's a fair chance you haven't heard of Tom Waits. Despite the uniqueness of his voice and the length of his glowing career, commercial visibility hasn't really found Tom organically.
In fact I only became exposed to his work last year, when I encountered "Rain Dogs" on a list of 100 Albums of all time. It took me quite a while to track down a copy, but in the process I obtained a number of his other earlier works, which this is one example of.
This is Tom Waits' second album, and dates from the early 1970s. There's a gradual change in his voice over the early part of his career and the differences are most apparent contracting this album with works from later in the same decade.
This is a nice album to introduce people to Tom Waits' work. It really captures the late night lounge club aesthetic through a soft jazz/pop vernacular which is quite consumable.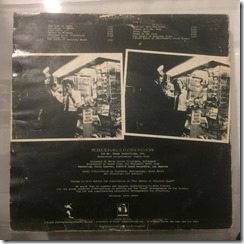 Technical
This is an Australian first pressing on the Asylum label.
My copy is marked by an average amount of light surface scratches and scuffing, but plays exceptionally well with only periodic light background noise. It still sounds respectable at a higher volume.
The cover has seen better days, and is barely held together, but the cover is still bright with detail.