True first press impresses
This isn't an Australian release, and has no connection to my country… However, the background to the release of this iconic album is too good not to write about.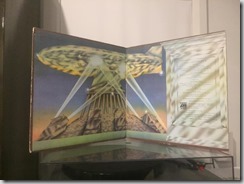 The story goes that the (now) legendary audio engineer Robert (Bob) Ludwig, at an early stage in his career, was the original engineer mastering the album. His first mastering of this album is legendary, and here's why:
Known among dealers as the "hot mix," it has such energy and dynamic range that when it was released it caused the needles on cheap record players to literally jump out of the grooves.

This happened when Ahmet Ertegun, the president of Atlantic Records, brought a copy home to his daughter. Judging the record defective, he immediately ordered a new pressing with the signal dialed down and compressed.
Source: Wired
Only about 200,000 copies are estimated to have been pressed before the remastering. The new mastering has compression dialled up to the point of making the album sound weak.
I wrote to Bob via e-mail a few days after I heard his original mastering for the first time on vinyl, praising his work. He replied a few days later:
"It is amazing that their music still speaks to fans 47 years after its creation. If you subtract 47 years from 1969 it is 1922: Louie Armstrong was just leaving New Orleans to create jazz as we know it. There wasn't much of that music being played on the air in 1969!" – Bob Ludwig
The Release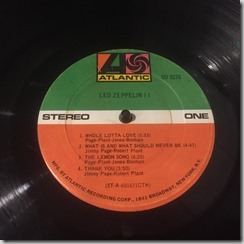 I have to say, as legendary as the reputation which precedes it, Bob's mix surpasses my expectations by a country mile.
I've never heard Zeppelin with such a roar, and with such incredible bass and range.
It is a shame that Atlantic re-cut to the "standard" edition, as it would seem to have robbed many generations of experiencing the best of Zeppelin II (with the exception of the lucky few, now including myself!).
True first pressings bear the following attributes:
LP labels include "CTH" suffix (indicating a Terre Haute pressing), and,
MFG. BY ATLANTIC RECORDING CORP., 1841 Broadway, New York, N.Y.

You'll also need to check the matrix numbers etched into the dead wax, keep reading.
Technical
Beyond the label, you'll want to inspect the matrix numbers etched into the dead wax (runout) on each side of the LP. If you see "T ST-A-691671" with "RL SS" then you are holding a proper US first pressing mastered by Bob Ludwig.
Congratulations!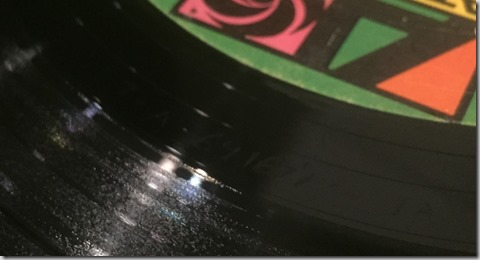 There's a good interview with Bob Ludwig here which is worth watching.