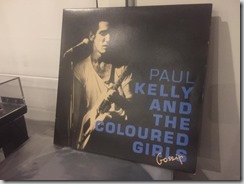 An Australian Institution
Paul Kelly is to Australian music what Banjo Patterson was to Australian literature. His lyrics are poetic, and his ability to articulate so many "true blue" virtues is commendable.
He formed with "the Coloured Girls" after success with his solo career, and although the band name is inspired [ref] by the chorus from Lou Reed's "Walk on the Wild Side", it was changed to "Paul Kelly and the Messengers" for overseas consumption for obvious reasons.
The group put together a double LP as their debut album, and it was an immediate success. As a double LP, it was shipped in a colourful double gatefold sleeve.
The hit single "Before Too Long" was very popular in Australia, and has a very catchy and melodic chorus, it speaks of him as the underdog, the longing and hope that he can be with the one he loves.
Another favourite from this extensive catalog of Australian songs is the vivid "Leaps and Bounds" which evokes memories of Melbourne and the suburbs.
There's a few covers from Kelly's previous solo album, plus some new work. Kelly tackles a number of Australian-specific issues, such as British atomic testing on the Aboriginal Maralinga Tjarutja tribe.
Technical
Typical 80s pressings, my copy is near mint on both LPs and the sleeve is in great shape. I really like the colourful Mushroom logo adorning the labels.